Some of the Performers Appearing in An Audience Without Dermot Morgan...
Ardal O'Hanlon
Along with Dermot Carmody and associated other rogues, Ardal started his comedy career in The Comedy Cellar in Dublinís International Bar as a member of mythical sketch troupe Mister Trellis.
In the mid 90s Ardal took his economically written and perfectly performed stand up to London where he quickly established himself as a favourite of the UK circuit. He landed the role of Father Dougal, alongside Dermot's eponymous lead in Father Ted and soon shot to TV comedy stardom. The man has been Doctor Who, for goodness sake. Thatís proper telly, that is.
Chris de Burgh
Renowned songwriter and internationally successful recording artist Chris de Burgh lends his support and his instantly recognisable golden tones to An Audience Without Dermot Morgan.
Chris de Burgh, with a career encompassing 17 studio albums, approaching 3,000 concerts worldwide, and with LP sales in excess of 40 million, is an exciting addition to the bill!
Members of Kíla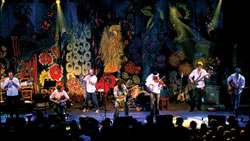 One of Irelands most innovative bands, Kíla's diverse line-up (the seven-piece play a variety of instruments including whistles, fiddles, pipes as well as brass and woodwind) fuses Traditional Irish with an eclectic blend of World music influences. Expect a high-octane Trad group performance infused with a world music sound!
Barry Murphy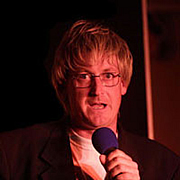 Barry Murphy is often remembered for the six years he spent as a member of the cult comedy trio, Mr Trellis, with Kevin Gildea and Ardal O Hanlon. He is the co-founder of the Comedy Cellar - Ireland's longest running comedy venue, and is easily recognised as one of the "ten kings of Irish Comedy over the last 20 years" (Hot Press Magazine).
"Barry Murphy's German alter ego, Gunter, is as laugh-a-loud funny as it is satirical. He deserves to be bigger than Riverdance and The Corrs put together" - Brian Boyd, Irish Times
"Subtly mischievous, always teasing, this clever comic works the audience like a chin-wagging barman" - The Scotsman
Kevin Gildea
Kevin is a comedian, writer, actor, reader, walker and list maker. He has performed his stand-up all over the shop - Shanghai, Bankok, Dubai,South Africa, Vietnam and Portloaise.
"Highly original and explosively funny," The Sunday Times.
Kevin appeared in Father. Ted (on the plane). He starred in the sketch show Haywire (BBC 2) and has been on a million stand-up shows on a zillion tv stations in a quillion pixels.He has appeared a number of times on RTE's The View discussing Culture and Art and has appeared on RTE's Disney Club as Pointy Gildelfi (the naughty elf) discussing Elf strategies in the 21st century. He starred in BBC Radio 4's The O'Show and has also appeared in blah blah blah blah big-headed boasty bod blah blah blah……
MIchael Redmond
As skilled a writer as he is a performer, Michael started his career scripting comedy for Irish radio and television. After moving to London in 1987, he quickly established himself as a firm favourite on the comedy circuit, headlining at clubs throughout the UK and later developing his own one-man shows. A regular at major comedy festivals, Michael has performed a number of hugely successful solo shows at the Edinburgh Fringe, including Eamon, Older Brother of Jesus, which was later developed as a series for Radio 4.
Michael has appeared on a number of high profile TV shows, including 'Comedy Nation' (BBC2), 'Friday Night Live' (LWT) 'The Stand Up Show' (BBC1), 'Clive Anderson Talks Back' (BBC1), 'Just for Laughs' and of course 'Father Ted' (both C4). But it is his startling effect on a live audience that makes him such a hot property. Already firmly established as resident host of the Sunday night show at The Stand in Glasgow, he embarked on a full Scottish tour of his Long Riders show following its debut at the Glasgow International Comedy Festival and a great performance in front of a sell-out crowd at the 2,500 seat Edinburgh Festival Theatre. Recently Michael appeared in the 'Best of Irish' comedy showcase and continues to be in big demand nationwide.
Joe Rooney
Joe is probably best known for his role as Father Damo in the "Father Ted" series. He started his comedy career as half of The Quacksquad, a comedy duo that went on to write and perform on "Nighthawks", "The Late Late Show" (with his personal interpretation of Riverdance) and RTE's first sitcom, "Flatheads".
More recently Joe has been admired for his perfomances as "Timmy" in Killnascully and he tours Ireland and the UK extensively with his quirky and hilarious stage show.
Paul Tylak
Paul Tylak (Joe Rooney's former Quacksquad partner), was, with Paul Woodfull, creator, writer, and co-star of the IFTA (Irish Film And Television Award)winning sketch series "STEW", and he's just finished playing "McCarticus" on the CD of the smash-hit Comedy Opera "I KEANO"(out now in all good disc shops).
Paul still harps on about his miniscule role in "The Name of The Father", and two briefer-than-brief appearances in "Father Ted", which all happened years ago. A core member of the Irish Improv, he's never slow to mention he's performed with cast members of The Simpsons, The Drew Carey Show, Saturday Night Live, and Who's line is it Anyway?

Dermot Carmody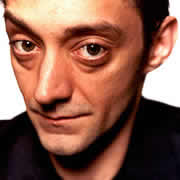 "A powerful catalogue of musical comedy" - The Irish Times
"Seriously Funny" - Hot Press
Dermot Carmody started comedy life in 1988 when he co-founded The Comedy Cellar comedy club in Dublin's International Bar along with Barry Murphy, Kevin Gildea, Alex Lyons, Karl McDermott, Ardal O'Hanlon and other villains.
In 1989 he came up with "The 1989 Show!" but due to problems with availability and focus the show was temporarily shelved. Carmody went on to gig in every comedy club and festival in Ireland and the UK, do telly, do radio, invent 2irish.com (the web site and the radio show) along with co-conspirator Morgan C. Jones, write the comedy column in Hotpress magazine for a year, improvise like the blazes with The Dublin Comedy Improv.
After well over a decade of prolonged negotiation and a huge hiatus when everyone involved switched from filiofax to psion organiser, then to their phones and finally back to scraps of old envelopes again, the opportunity finally arose to get "At Last, The 1989 Show" off the ground and into The Odessa Club where it runs monthly.
Morgan C Jones
Morgan C. Jones started his career as a stand up comedian, took a left turn as a television actor, arrived at theatre, got lost on the way out; went back to stand up to see if anyone had found his jacket - was told to look where he last remembered wearing it; went back to television to discover that he had left his jacket there, but that in his absence it had been developed as a twenty six episode agricultural soap opera and was regularly appearing on daytime TV as an agony garment.
In recent years Morgan has had a long and fruitful sojourn with Roger Gregg's magnificent Crazy Dog Audio Theatre. In addition to stand-up, telly, stage and what not, Morgan was one half of www.2irish.com, at one time Ireland's only daily updated political satire and topical comedy website - until he and co-creator Dermot Carmody found their way out of the room with the computer in it. 2irish has recently been reborn in the 2irish News blog. Morgan appears in "At Last The 1989 Show!" with Carmody every month at The Odessa Club.